README.md
A very simple Space Shooter - SHMUP - Shoot Them All
First attempt to use Lephe's Azur.
Yet it only consists in a Particle Engine able to reproduce some kind of explosions and a starfield moving in the background of the screen. The particle engine is based on fixed-point maths for update and on Azur shaders for rendering.
Some pictures of current revision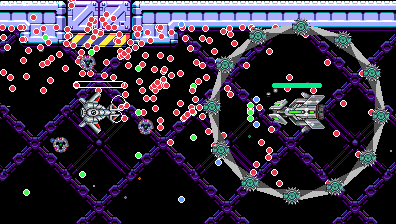 Still a lot of missing features.
Please see below what I would like to implement on the long run (sorry in French right now).
SHMUP Todo list :
Moteur de jeu
[DONE] better keyboard management engine for keypressed() and keyreleased() events
Mettre une système d'ajustement de FPS mini avec switch des niveaux d'overclock à la volée de manière dynamique
Partie décors :
[WIP] - animer le décors avec le parallaxe (glissement de la droite vers la gauche pour donner l'avancement du vaisseau).
animer des éléments du décors (clignotements, sprites animés, ...)
interaction avec le décors (collisions possibles avec certaines tiles) qui imposent donc de suivre un "chemin" dans le niveau
[DONE] multiple layers de tiles pour avoir des niveaux plus beaux
Partie mouvement :
améliorer le système de trajectoires sur base de Splines pour rendre la vitesse des ennemis plus constante.
rendre les satellites sur une trajectoire (possibilité d'avoir des patterns plus complexes)
possibilité de transformer les trajectoires (grossissement/rétrécissement, translation et rotation)
Partie interaction / gameplay :
implémenter les tirs ennemis (avec une IA minimale)
[DONE] implémenter les hits des tirs ennemis sur le joueur
implémenter les collisions avec les ennemies
implémenter les collisions de bullets avec les satellites pour que ceux-ci perdent de la vie aussi
implémenter le tir des satellites
[DONE] implémenter un système de bonus (points, upgrade tir/satellites/... )
implémenter un système d'amélioration de compétence de tirs (bullet -> mega bullet -> laser -> )
implémenter un système d'animation du vaisseau (réacteurs par exemple)
Bosses
[DONE] Créer des bosses avec différentes zones, mobiles les unes par rapport aux autres
[DONE] Créer des hitboxes pour chacune des zones du boss avec différentes sensibilités (par exemple le coeur/générateur = zone critique, mais mieux défendues)
[DONE] Créer des protections pour certaines zones qui peuvent "sauter" (boucliers qui s'usent)
Autres :
[DONE] plein de trucs dont boss "multi-morceaux et multi-hitboxes"
création de différents levels
créations de différents ennemis
créations de différents boss o boss 1 : "rotating shield" avec multiples cannons o boss 2 : "threwing saws" o boss 3 : "Gun Crab" o boss 4 : "Demoniac Snake" o boss 5 : "Space Octopus"
création de séquences avec les boss (différentes phases)
créations de différentes armes
[DONE - CAN BE IMPROVED] créations de différents bonus
création de shields pour se protéger
Modes spéciaux
mode menu avec différentes planètes à selectionner pour les différents niveaux
mode hyperspace travel pour les transitions :

sous mode : à la "Tie fighter" ?
sous mode : éviter les astéroïdes
sous mode classique shmup horizontal
sous mode classique shmup vertical
sous mode Danmaku / Bullet Hell (par exemple contre les boss)
Interface :
Page d'accueil
Choix du niveau
Ecran de titre